Well, it has been awhile since my last blog post so I thought I'd make this one short and light.  Something for my dog peeps out there. 

My husband, Bob, and I have four kids between the two of us (all over 20 years old) and while they are all pretty awesome, our dog, Bodie, is working hard on closing the gap.

After our last dog, Samson passed away at 14, I felt like I was done with having dogs.  I had decided it was too heart wrenching a relationship.  Bob, however, after about eight months had passed, really wanted to get a puppy.  I did everything I could do drag it out, speak out against the idea, make it clear, I would have nothing to do with training the dog.  This would be his dog.  Period.  End of story.  I was serious.

Seriously kidding myself.  
I won't go through the whole story of how, in December 2015, we lost the opportunity for a puppy we had looked at online.  How we drove to another puppy rescue event because I knew Bob was so disappointed, though I was so relieved.  I won't tell you how the place was packed and because the tan puppies we wanted to look at were all being seen they let us look at the last minute litter of black lab mix pups from New Mexico.  A litter with all girls and one lone boy being bullied by his sisters.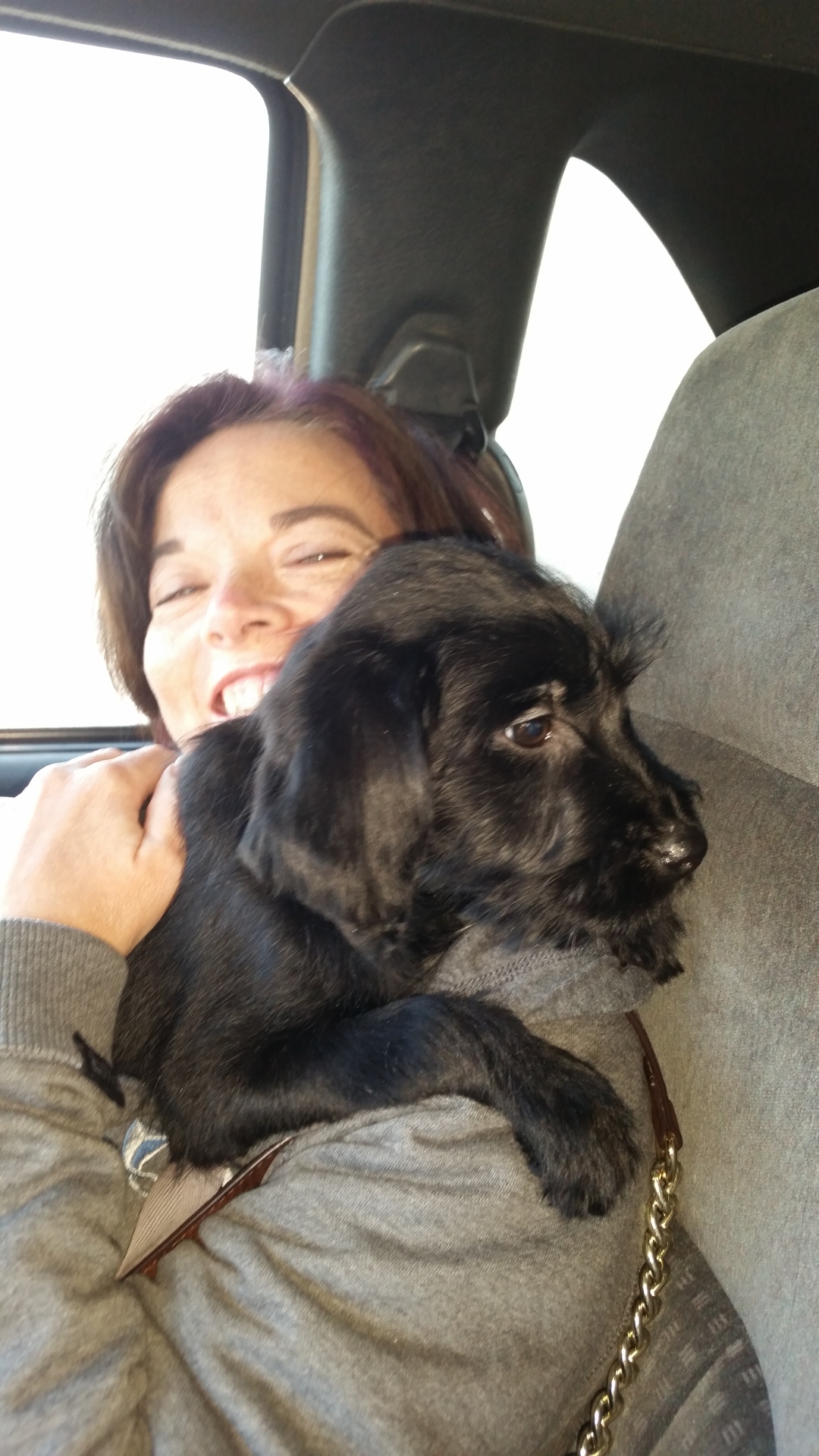 This is a photo of me having nothing to do with Bob's dog.

When push came to shove, I chose to remember that while losing a dog is one of the saddest experiences ever, having a dog is so crazy good, it is worth it to have those years together.
So now, Bodie, who was abandoned on the streets of New Mexico lives a pretty good life.  The treat you see perched on his nose at the top of this blog post is an organic baked peach cookie.  His food is grain free and his favorite flavor is the beef frittata.  
Bodie gets regular trips to the dog park for play dates and when he hikes with us he has his own supply of dog protein bars and a travel water dish.  I am the one that carries said protein bars and travel water dish.  I don't begrudge him this though because it is truly worth it to watch while he joyfully runs all over the place like a drunken baby moose.
Bodie gets a monthly Barkbox with toys and treats, regular trips to Kriser's to find new and exciting things to chew, and his own running harness so he can run with Bob.  There is never a moment that I feel resentment towards providing these things because he is truly the most grateful dog I have ever encountered.  Every treat is treated like the first one he has ever tasted, every toy is a new and treasured gift--even after it is gutted into a million fluffs of cotton all over the floor.  I wait until he's left the room to dispose of the shredded mess so he doesn't feel bad about the untimely demise of his new squeaker.

Everything Bodie does is endearing to me.  It cracks me up when he barks furiously at something outside and then races inside and growls at the sliding glass door.  I love the way he rough houses with Bob, but not me because I'm not rough enough.  Yet, if we go to the dog park and encounter a sketchy dog, he will slow down to close the gap between me and him.  Even though I may not play rough, Bodie knows that I would be the alpha wolf in a heartbeat should I need to be.
I'd be lying if I didn't acknowledge that having a dog can be a lot of work.  But I also have to point out, that no matter what kind of day I've had, coming home to that wrecking ball of a tail, showing me in no uncertain terms that I am all that AND a bag of chips, is pretty awesome.  And to think, I didn't want a puppy.